I know, you thought I would never return to you again! Between a job change, and general life busyness, I feel like I've been in a hole for a year! But I have a treat for you today. These are truly the best brownies I've ever had. My go-to recipe when making something for an event.
Ingredients Edit and Save
Original recipe makes 32 brownies (ish)
Brownie mix
1 cup white sugar
2 eggs
1/2 teaspoon vanilla extract
1/2 cup butter or margarine, melted
1/2 cup all-purpose flour
1/3 cup unsweetened cocoa powder
1/4 teaspoon baking powder
1/4 teaspoon salt
1/2 cup miniature chocolate chips
Ganache
1/2 cup evaporated milk
1 egg yolk
4 (1 ounce) squares semisweet baking chocolate, chopped
Raspberry Topping
6 ounces cream cheese, softened
2 tablespoons seedless raspberry jam
1 cup frozen whipped topping, thawed
2 drops red food coloring (optional)
16 chocolate curls (optional)
Directions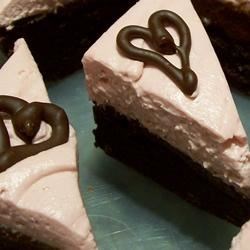 When it comes to baking, I try not to branch out too much. But I have tried this with more cream cheese (8 oz instead of 6 oz), using milk chocolate chips instead of baker's chocolate for the ganache (I wouldn't recommend it - the filling didn't harden and was just soupy even after refrigeration), and adding regular sized chocolate chips to the brownie batter (this turned out just fine).
The ganache takes about 10-15 minutes to get to the right consistency, and make sure you watch it closely at the end. I have let it go too long, and it gets kind of chunky. I still used it that time and it turned out ok, but it looks weird.