So this soup turned out SUPER yummy...NOT however enough for the proposed 8 servings, and pretty high on the calorie count for frequent consumption. I would say it makes closer to 4 -6 servings. The hubby actually made this one and he's very good at following recipes as directed, so there aren't any changes made this time. My future changes are below. :)
Original recipe makes 8 1-cup servings
1 (16 ounce) package Hillshire Farm® Smoked Sausage
1 medium onion, chopped
1/4 cup butter or margarine
1/4 cup all-purpose flour
1/2 teaspoon salt
1/8 teaspoon ground black pepper
1 (15.25 ounce) can whole kernel corn, drained
4 cups milk
2 cups cubed potatoes, cooked, drained
Chopped parsley (optional)
Shredded Cheddar cheese (optional)
Directions
1) Cut sausage into 1/2 inch cubes.
2) Melt butter in large saucepan over medium heat. Add onion; cook and stir until tender. Add flour, salt and pepper; cook, stirring constantly for 1 minute.
3) Add milk. Increase heat to medium-high and bring to a boil, stirring constantly. Boil and stir 1 minute. Add corn and sausage; return to a boil.
4) Reduce heat to medium-low and simmer 10 minutes. Stir in potatoes; heat through.
5) Top each serving with parsley and cheese, if desired.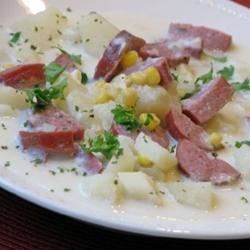 So, for me, the potatoes kind of over-powered the soup. I'm not sure if that's because they were in pretty large chunks, or whether it seemed like there were too many chunks compared to the amount of soup. In order to make enough for 8 people, I think I would add some chicken broth- maybe a cup or two. And possibly another 1/2 can of corn - but I really love corn, so that could be a contributing factor. ;) In order to make it more of a bisque, once I added everything but the sausage, I would blend it until mostly smooth, then add the sausage at the end. We did not add the cheese or parsley, and I think it was excellent without it.
Hubby and I just returned from my most FAVORITE ice cream treatery....Maggie Moo's! If you are in the Jackson, MI area, I highly recommend it. Speaking of which...it's BIRTHDAY week! So as an extra treat for you, I am going to share my project that I have been working on today. I have compiled a list of all the freebies (mostly food related) available in the Jackson/Spring Arbor area that one can get on their birthday! But I'm making it it's own post...so go check it out! :)