I thought I had posted this recipe, but apparently not. It's quickly become an old standby at our house, meaning I didn't think it was a new one anymore! ;) The hubby LOVES chicken noodle soup, and while I don't mind it, this soup is a similar enough to make him happy, and different enough to make me happy. Winner all around! It's a pretty versatile soup, you can change whatever you want (pretty much) and it comes out awesome.
Chicken Gnocchi Soup
Ingredients
Makes about 6 servings
1 tablespoon olive oil
1 small onion, diced
3 stalks celery, diced
3 cloves garlic, minced
2 carrots, shredded
1 pound cooked, cubed chicken breast
4 cups chicken broth
1 (16 ounce) package mini potato gnocchi
1 (6 ounce) bag baby spinach leaves
1 tablespoon cornstarch (optional)
2 tablespoons cold water (optional)
2 cups half-and-half cream
salt and ground black pepper to taste
Directions
Heat olive oil in a large pot over medium heat. Cook onion, celery, garlic, and carrots in the hot oil until onion is translucent, about 5 minutes. Stir in cubed chicken and chicken broth; bring to a simmer.
Stir gnocchi into the simmering soup and cook until they begin to float, 3 to 4 minutes. Stir in spinach; cook until wilted, about 3 additional minutes.
Whisk cornstarch into cold water until smooth. Stir cornstarch mixture and half-and-half into simmering soup. Cook until soup thickens slightly, about 5 minutes. Season to taste with salt and black pepper.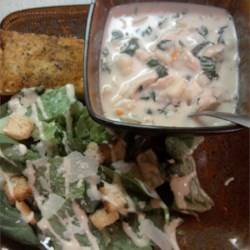 To start off, I make this recipe using a Rotisserie chicken. I have never tried it with regular chicken, and while I think it would still be good, I like the added flavor of the rotisserie seasonings. Plus all the meat that comes off of a rotisserie chicken is the perfect amount for soup. Anywho, so pick off all the meat and set aside. Boil the carcass and skin for several hours to make stock. (at this point I usually add some additional chicken bullion to the broth, do this to taste). I then dice 3-4 stalks of celery, 1 onion, and 1 bunch of organic carrots (trust me, I am not on the organic train for the most part, but definitely AM for carrots!), which equals to be about 5-6 smallish carrots. Then follow the recipe as directed. I haven't put spinach in it, because for many years, I've had a phobia of cooked spinach. I recently tried it in the
Zuppa Toscana
soup, and it was fabulous, so I think I'll start adding spinach to the final product. It is great served with nice crusty bread, and a fresh green salad. Definitely a keeper around this household! I haven't tried freezing it yet (the leftovers are equally awesome and tend to go quickly), but that is my next task. I'll let you know how it goes!