So this is an interesting, and potentially healthier version of mashed potatoes? This is a recipe where my food processor (Merry Christmas to myself!) came in super handy! I think I would try it again, with a couple of minor changes. (see below) Being of Irish orgin, it would be the perfect accompaniment to your next St. Patty's Day meal!
Ingredients
Original recipe makes 4 to 6 servings
1 pound cabbage
1 pound potatoes
2 leeks
1 cup milk
salt and pepper to taste
1 pinch ground mace (or you can use ground nutmeg)
1/2 cup butter
Directions
In a large saucepan, boil cabbage until tender; remove and chop or blend well. Set aside and keep warm. Boil potatoes until tender. Remove from heat and drain.
Chop leeks, green parts as well as white, and simmer them in just enough milk to cover, until they are soft.
Season and mash potatoes well. Stir in cooked leeks and milk. Blend in the kale or cabbage and heat until the whole is a pale green fluff. Make a well in the center and pour in the melted butter. Mix well.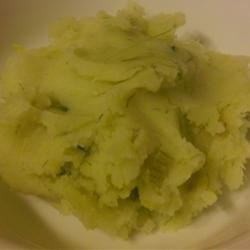 This recipe took more research than most! I chopped up my two leeks, and was thinking to myself, "this is a TON of leeks!" It looked equal to the amount of both cabbage AND potatoes! I then googled "how big is an average leek?" (my leeks were probably a little over 1 foot long and 3-4 inches wide) Google informs me that "average leeks" are 2-3 inches long, and 1-2 inches wide. Ummm, yah, thinking I have an over-abundance of leeks at this point! ;) I used 1/4 of my chopped leeks, and I think I may decrease it a little bit more next time.
My second point of research came when it was time to boil the cabbage. I have never boiled cabbage before! How long does one boil cabbage "until tender"??? Back to good ol' Google...apparently if the cabbage is in wedges, about 10 minutes. (if it's already chopped, boil for 3-5 minutes) And I'll just throw in, if you've never boiled potatoes, it takes about 15 minutes if they're in chunks.
Ok, continuing on. I used 1 head of cabbage (because I'm not 100% sure how much of 1 cabbage is a pound, and didn't have any plans for leftover cabbage), 6 medium sized potatoes (again, over a pound, but it looked to be about the right ratio to match the cabbage), and about 1/2 of ONE leek. Used the food processor to mash the potatoes and cabbage, and once the leeks had finished in the milk, stirred them all together with the butter, salt, and pepper in a large bowl. I really liked how the food processor blended the cabbage. I think it made the potatoes a little TOO smooth for my taste - I like a little more texture in my potatoes. I simmered the leeks in 1 cup of milk for about 7 minutes - I would increase that time by a couple of minutes. The leeks seemed mostly cooked, but a little stringy compared to everything else that was very well blended. I did forgot to add the nutmeg (which is a substitute for mace, if you are wondering what else you could use), which would have been an interesting counterpart to the rest of the ingredients.
My mixture turned out pretty soupy, so I put it in a 9x13 and baked it uncovered for about 30 minutes on 350 degrees, which gave it a tinge of brown on top and sucked up some of the extra liquid. I may decrease the milk, or squeeze the excess water out of the cabbage with a cheesecloth or something. All the flavors came together pretty well - you could taste the cabbage, potatoes, and leeks individually, but they complimented each other too. The leeks were a little more over-powering than I would have wished, but with using 1/3 of a leek next time, I think it would be perfect. Salt and pepper to taste. A keeper recipe, but probably won't make it into the frequent rotation.
Do you ever have that day when the stars align, and you feel extra-loved by all those people in your life? Last night was one of those for me. :) I was held up at work, and was supposed to make these
lady bug crackers
for my Special group that night, so I called the hubby and asked if he could start them for me. Not only did he search and find the exact recipe I was referring to, but he made them all, and had them packed and ready for me to grab when I came skidding home about an hour later than expected. And because I was running late, he foresaw I would not have time to eat the soup he made for dinner, so he made me a delicious sandwich! (He used garden vegetable cream cheese, red head lettuce, monterrey cheese, and clementines, things I never would have combined, but it was AMAZING!!) Had the evening stopped there, it would have been perfect, yet it gets even better!
I got to meet with my special group (yes, that is our name), which basically consists of us getting together, eating amazing food, and talking books and life, and laughing, laughing, laughing. Last nights menu consisted of lady bug crackers, strawberries, gouda cheese, asparagus, dark chocolate balsamic vinegar, homemade sugar/cinnamon pecans, and orange/vanilla monkey bread. I challenge you to find a better combination of food anywhere on the planet!
With a full heart, I came home, and found a facebook post from my boss, just saying how much she appreciated me that evening. Kind of the cherry on top of an already perfect sundae! I felt so loved and blessed by everyone, it was definitely a heart-happy evening. And these are the things I need to remember when I'm frustrated, or having a grumpy day. Hence immortilazation in blog form. ;) In whatever form that means for you, I hope you have a heart-happy moment this week.