You are about to be inundated with lemon recipes. ;) The papa-in-law LOVES lemon desserts, and as June host the holiday known as Father's Day, lemon abounds in the Hunt household at this time of year. These are DEFINITELY a keeper recipe, and are great for a large group of people.
Ingredients
Makes ~20 servings
3/4 cup shortening
1/3 cup packed brown sugar
1 1/4 cups all-purpose flour
1 cup rolled oats
1/4 teaspoon salt
1/2 cup seedless raspberry jam
FILLING:
4 (8 ounce) packages cream cheese, softened
1 1/2 cups sugar
1/4 cup all-purpose flour
4 eggs
1/3 cup lemon juice
4 teaspoons grated lemon peel
Directions
1) In a mixing bowl, cream shortening and brown sugar. Combine the flour, oats and salt; gradually add to creamed mixture. Press dough into a greased 13-in. x 9-in. x 2-in. baking dish. bake at 350 degrees F for 15-18 minutes or until golden brown. Spread with jam.
2) For filling, beat the cream cheese, sugar and flour until fluffy. Add the eggs, lemon juice and peel just until blended. Carefully spoon over jam. Bake at 350 degrees F for 30-35 minutes or until center is almost set.
3) Cool on a wire rack. Cover and store in the refrigerator.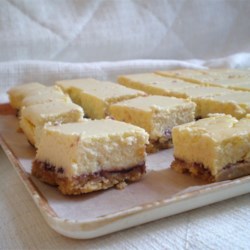 I'll be honest...baking is not my strong suit. I much prefer cooking, so when it comes to baking, I stick pretty close to the recipe, afraid that any changes I make will cause it not set, or rise, or whatever it's supposed to do. ;) So for realsies, this is a "follow as directed". (ok, except for I did add a dash of lemon extract to the cheesecake part, as it need a smidge more lemon.) I used 3 lemons for the juice and zest, and that seemed about right when I measured it out.
The raspberry provides a nice foil, keeping the cheesecake part from being too lemony, and the crust isn't overly sweet, providing a nice clean balance. I recommend using a knife run under hot water (frequently!) when cutting the bars to avoid the cheesecake clumping on the knife. A resounding yes from this household, and hopefully from yours too.