Happy Dr. Who day! This month's theme is French Bistro, and since panini's and frittes were already covered, what was left for me but my favorite...soup! Searched my recipe box, and this was the closest soup I could find that seemed like it would be served in a bistro. Plus, I got to use up most of the leeks I had frozen after making
Colcannon
. Bonus!
Ingredients
Makes 4 to 6 servings
1 1/2 pounds leeks, sliced
1 onion, chopped
1 potato, cubed
1 carrot, chopped
1 tablespoon butter
1 tablespoon olive oil
1 1/4 teaspoons dry mustard powder
2 teaspoons cornstarch
1/2 cup water
salt and pepper to taste
1 teaspoon white sugar
5 cups water
1 cube vegetable bouillon
1 cup heavy whipping cream
1/8 cup shredded Gruyere cheese
1/4 cup shredded Cheddar cheese
Directions
1) In a large pot over medium heat, saute the leeks, onion, potato and carrot in the butter or margarine and the olive oil for 10 minutes, or until all vegetables are tender.
2) Mix the mustard powder and cornstarch with the 1/2 cup water to make a thin paste. Set aside.
3) Season the vegetable mixture with salt and pepper and sugar. Stir in the mustard-water mixture and the 5 cups water. Bring mixture to a boil. Stir in the bouillon cube, reduce heat and simmer for about one hour, until reduced by half.
4) Using a hand blender or upright blender, puree mixture until frothy but not completely smooth.
5) Return this to the pot and bring to a boil. Stir in the heavy cream, Gruyere and Cheddar cheeses. Heat until cheeses melt, do not boil. Serve hot.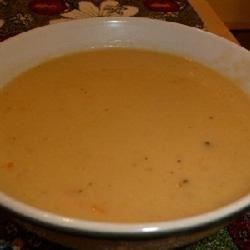 Ok, so much yum happening in this recipe! I used about 1 and 1/2 cup of chopped leeks - more of a guesstimate than actual measuring. I used two medium potatoes (peeled and chopped) and 3 small carrots, as I wasn't sure how big the potato and carrot was supposed to be! I think that ratio worked out just fine, though I did add an extra dash of olive oil, just in case. Sauteed all the veggies for about 15 minutes, then added the seasonings and liquid. Instead of a vegetable bullion cube, I used my chicken stock bullion mix. Simmered for the hour, and then blended. Just an FYI - blending hot liquid makes the top spit at you when you start it! It blended really well, coming out to a nice mustardy color. Added the cream and about 1/2 cup of Gruyere cheese and 1/2 cup Sharp Cheddar. I love cheese, so the more the better! I don't think my simmering reduced the soup by half, so it helped thicken it up just a smidge more. Served with a hearty slice of French bread, and it's a meal fit for a king.
This soup has a great flavor, and the leeks are not too over-powering. I could have added more mustard with no ill effects, and I did have to add some additional salt at the end. It's hard to add seasonings "to taste" when you're only half way through the recipe!