The hubby really likes White Castle burgers. Personally, I think they're gross, but what is marriage about but compromise? ;) Found this recipe via my daily AllRecipes e-mail and thought it wasn't TOO gross sounding, and it might make him happy. And actually, it turned out that I really liked it. Score one for compromise! :D
Directions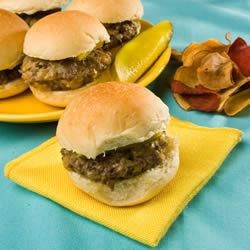 Couple of minor changes... 1/2 cup of dried minced onion is a LOT! I find that it tends to overpower recipes (see
Baked Ham Sandwiches
) so I put in less then 1/4 cup - it was still pretty onion-y, especially with the French Onion Soup packet, but much less so. Next time I might decrease the minced onion even more. Instead of using the already made rolls, I got the Rhodes frozen rolls (in dough form) and baked about 20 of them. Brean is VERY in to rolls, so I figured having extras was not going to be a problem. :) The only difference that they provided was being of a smaller roll then the pre-made rolls that you get from the deli. I think they worked out fine - I ended up with 18 little burgers instead of 12. While I am a fan of pickles by themselves, I don't really like them on sandwiches, so I left them out. Otherwise, follow as directed. They were pretty tasty, and are good re-heated as well. They would make a very fun appetizer or finger food for a party. Next time I may freeze half for later, as we are still working on them 2 days later!
I was talking to a friend yesterday and asked her where she wanted to go with her life. In 5-10 years, what do you want your life to look like? As one who always has about 5 plans for her life, I actually had to stop and think about what my answer would be. Do I want to be working? If not, what would I be doing to contribute? I loved her answer, so I'm going to share it with you. She said she wanted her life to be more simplistic. Not in a "do less activities" kind of way, but in a "be content with what you have and not always have to strive for the newest and best" kind of way. I need to incorporate that philosophy in my plan, that is for sure!
I tend to strive for the next "thing". Take my scrapbooking corner for instance. I love it. I love the way it looks, and how it makes our bedroom come together. Does that mean I'm going to scrapbook more often? Maybe...but maybe not. I acquire things more because of the way I want things to look then for the purpose of actually HAVING to have the space. Now that is not to say that I won't be more
likely
to scrapbook now that I have a space to leave things out - it was a pain to get everything out, just to clean it up again a couple of hours later. The reason that the scrapbook area is in our bedroom vs. my room (the guest room) is for that very purpose - to be able to leave a project out to be worked on without worrying about it not being clean anytime someone comes over.
Alright, here's my short-term goal: I want my scrapbook corner to be my connecting place. I want to use it to write letters to people, to blog, and scrapbook, remembering the amazing people that have been in my life over the years. It was really fun to have a place to sit and write thank you notes from my birthday extravaganza - my own little oasis.
As for what I want my life to look like in 5-10 years? I want the only debt we have to be our mortgage. I want to be working, but maybe part-time? (still debating about that one - time off vs. money towards things) I want Brean to have a job he loves. I want to have traveled somewhere big. I want to be involved in some capacity in our local community. So here is to the next 10 years - may it be all that is hoped for, accepted for what is, and cherished for what it was.