This has become my favorite go-to coffee cake recipe. It's easy, and I love that it can be made the night before!
Directions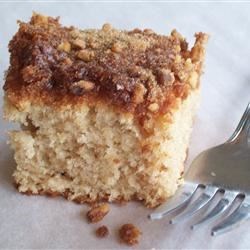 I think that walnuts are gross. You may be of a different persuasion, and that's ok....for you. :p Sometimes I opt to not use nuts at all and use a bit more brown sugar (or you could use oatmeal). This time, I used some already-made
Cinnamon Pecans
with the sugar/cinnamon for a little extra somthin'. I love this cake because it's really light and fluffy, and sweet without being over the top. No changes needed (other than the nuts).
Some little factoids for the day:
1) I am craving manicotti. I plan on making that at some point after my next grocery shopping trip.
2) I like painting my nails dark colors, particularly blue. I then hate when it chips (which it inevitably does after a couple of days), but for that first couple of days I find myself staring at my nails frequently. It's weird, I admit it. :)
3) I need to work on reining in my temper. I should not have the desire to kick as many people as I seem to want to kick on a daily basis. :P And even if I still WANT to kick people, I should decrease my verbalization of that desire.
4) I love my bookclub ladies, and I loved our most recent book (
Night Circus
by Erin Morgenstern). My favorite line: "By the time he reaches the farm, he is sure that the Bailey he is now is closer to the Bailey he is supposed to be then the Bailey he had been the day before." I want to be closer to the person I am
supposed
to be tomorrow than I was today. So here is to tomorrow - Cheers!