I'm sure you have not at all noticed the trend of crockpot meals. ;) I have started to really like wild rice, and am trying to incorporate it more frequently into the regular rotation.
3 (10.75 ounce) cans condensed cream

of chicken soup

2 1/4 cups water

1 cup milk

4 cups long grain and wild rice mix

1 (16 ounce) package baby carrots

6 skinless, boneless chicken breast

halves
| | |
| --- | --- |
| 1. | Spray the inside of a slow cooker with cooking spray. |
| 2. | Stir together cream of chicken soup, water, milk, long grain and wild rice mix (including seasoning packets, if any), and baby carrots in the slow cooker. |
| 3. | Place chicken breasts on top of the mixture. |
| 4. | Cover and cook on High until chicken is cooked through and rice is tender, about 5 hours; or cook on Low setting for 7 to 8 hours. |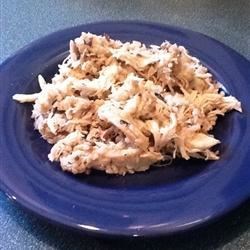 This one, however much I really WANTED to like it, was just ok. The rice got a bit mushy after so long in the crockpot, so decreasing the time may helped. It calls for wild rice mix, so I used the Uncle Ben's Long Grain and Wild Rice mix. The taste of seasonings seemed to overpower the dish - next time I may try to substitute 1-2 cups of rice mix for just plain wild rice. I also didn't add carrots - not really a big fan of cooked carrots, though adding them may have helped with the over-seasoning taste. I froze part of this for a later meal, and am curious to see how it'll be after being frozen.
One of my favorite things kitchen-wise the past couple of months has been freezing leftovers! It's kind of trial and error to see what freezes well and what would be better just to make in smaller portions. So far, everything I've frozen has thawed and reheated well. So many recipes are for 6-8, which can be a bit much for 2 people. Instead of scaling them down to fit our needs, I'm making the standard recipe, leaving enough for leftovers the next day, and freezing the rest. We are acquiring a small chest freezer in the next couple of weeks, and I'm excited to have a little bit of extra room to store these extra goodies! It is helping to curb those "I don't want to cook, so we go out to eat" impulses. (Though sometimes I STILL want to go out to eat!) We are in the midst of a sabbatical from eating out, and so far we've done pretty well. Now to just keep it up! :D Plus this way we're not eating leftovers of the same thing for a week!