Bacon + Chicken + Dumplings = yum! Well, it should anyway. This recipe is okish. There are other soups I like better (just plain Chicken and Dumplings are pretty tasty) so I don't know that this will make it in to the rotation. The bacon doesn't come out a strongly as I would hope, and the potatoes make the soup grainy instead of creamy.
3 slices bacon

3 large potatoes, peeled and diced

1 onion, diced

4 skinless, boneless chicken breast

halves - diced

3 cups chicken broth

1 teaspoon poultry seasoning

salt and pepper to taste

1 (15.25 ounce) can whole kernel corn,

drained and rinsed

3 cups half-and-half

1 1/2 cups biscuit mix

1 cup milk
| | |
| --- | --- |
| 1. | Place bacon in a large, deep skillet. Cook over medium high heat until evenly brown. Drain, crumble and set aside; reserve bacon drippings in skillet. |
| 2. | Add potatoes, onion and chicken to bacon drippings and cook for 15 minutes, stirring occasionally. Pour in chicken broth; season with poultry seasoning, salt and pepper. Stir in corn, and simmer all together for 15 minutes. |
| 3. | Pour in half-and-half and bring to a boil; add crumbled bacon. In a medium bowl, combine biscuit mix with milk and mix well (dough should be thick). Drop tablespoon sizes of dough into boiling mixture; reduce heat and simmer for 10 minutes uncovered, then another 10 minutes covered. (Note: Do not stir while simmering, or dumplings will break apart). Serve hot. |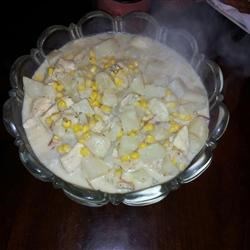 While this was not quite what I was expecting, I think I would make it again. Instead of adding the bacon to the soup, I would just sprinkle it on top (in significant quantities of course! ;P) Otherwise, follow as directed.
B and I have been finding things to watch together, and it's always a challenge when we finish something to find our next show.
Wins: Buffy, Angel, Psych, Monk, Gilmore Girls, House (in the early years), Burn Notice, Lois and Clark, Big Bang Theory, and the current watchs: Kyle XY, and Once Upon a Time.
Not so much winners: X-files, Charmed, Sliders, Star Trek (any of them).
Any suggestions for upcoming shows? I'm thinking maybe Supernatural, or finally finishing Smallville.