This was for a Mexican themed Dr. Who night. I loooove the Mexican restaurant's white cheese dip, and this one was pretty similar.
1 pound white American cheese, cubed

1/2 cup milk, or as needed

1 tablespoon butter or margarine

2 (4 ounce) cans chopped green chilies

2 teaspoons cumin

2 teaspoons garlic powder

2 teaspoons onion powder

cayenne pepper to taste
| | |
| --- | --- |
| 1. | Place cheese, milk, and butter in a medium saucepan over low heat. Cook until cheese has melted, stirring frequently. Stir in green chilies, cumin, garlic powder, onion powder, and cayenne pepper to taste. Add more milk if dip is too thick. Heat through and serve immediately. |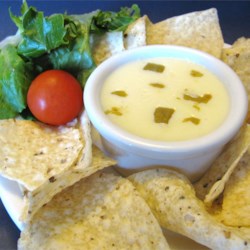 I, in my infinite wisdom, decided that it needed some salt. It does NOT in fact need salt of any sort. :D Other than that, it was very good! I used white American cheese, as well as some shredded Queso Velveeta cheese. I made it in an electric fondue pot, which was nice because I could just add all the ingredients and leave it on low to melt together. I only added 1 can of green chilies...they are not my favorite taste in the world, so I tend to go pretty light in any recipe that calls for them. Would definitely make this one again, minus any salty additions.