Alright, we're starting a blog blitz - it's been too long, and I promise you, I HAVE been cooking! :) I'm trying to branch out beyond mostly chicken - sometimes it works out better than others. This one will soon become a favorite - I froze about half of it for later, and I'm excited to eat it again!
1 (3 1/2) pound pork butt roast

1 tablespoon chili powder

1 tablespoon vegetable oil

2 teaspoons pepper

2 teaspoons ground cumin

2 teaspoons coriander

2 teaspoons paprika

1 teaspoon allspice

1/2 teaspoon salt

2 cloves garlic, minced

1 1/2 cups Heinz® Tomato Ketchup

1 cup Heinz® Apple Cider Vinegar

1/2 cup fancy molasses

1/3 cup Heinz® Mustard

2 teaspoons cornstarch

Soft rolls
| | |
| --- | --- |
| 1. | Remove all string from the roast and trim away excess fat. Place the chili powder in a bowl; blend in the oil, chili, pepper, cumin, coriander, paprika, allspice, salt and garlic to make a paste. Rub all over the pork, working the spice mixture into the meat well. Marinate for at least 30 minutes or overnight. Transfer the roast to a slow cooker. |
| 2. | Blend the ketchup with the vinegar, molasses and mustard. Pour mixture over the roast and cook on low for 8 to 10 hours or until very tender. |
| 3. | Transfer the roast to a large bowl; discard any visible fat. Use two forks to separate the meat into long strands. Remove 1 1/2 cups of the cooking juices and strain into a saucepan. Whisk in the cornstarch and bring to a boil. Cook, stirring, until thickened and bubbling. Return the shredded meat to the slow cooker; stir to combine with remaining cooking juices. Serve the meat on soft rolls; drizzle with thickened sauce mixture to taste. |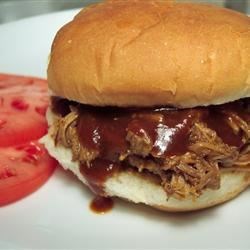 This recipe I followed as directed, served topped with coleslaw (homemade! Recipe below) on Onion buns. I wasn't sure about the sauce as I was making it, but it was an AMAZING BBQ type sauce that really melded all the flavors together. The only change I would make would be to thicken more of the sauce and add it back in to the meat. The juices tended to soak in to the bun pretty quickly.
Coleslaw
1 (16 ounce) bag coleslaw mix

2 tablespoons diced onion

2/3 cup creamy salad dressing (such as

Miracle Whip™)

3 tablespoons vegetable oil

1/2 cup white sugar

1 tablespoon white vinegar

1/4 teaspoon salt

1/2 teaspoon poppy seeds
| | |
| --- | --- |
| 1. | Combine the coleslaw mix and onion in a large bowl. |
| 2. | Whisk together the salad dressing, vegetable oil, sugar, vinegar, salt, and poppy seeds in a medium bowl; blend thoroughly. Pour dressing mixture over coleslaw mix and toss to coat. Chill at least 2 hours before serving. |

I agree with a couple of the reviews that say the sugar is a bit much...I would decrease it a bit. And honestly I didn't measure the Miracle Whip, just added until it looked right. Didn't add poppy seeds...I don't keep them on hand usually, but I think it would be yummy!