I love really flavorful steak (well done of course! I've had waiters tell me I'm "ruining" the meat...I'm sorry, I just don't want it mooing on my plate!). Tried this marinade, and was quite pleased with it. Definitely will be making it again!
Best Steak Marinade
Original recipe makes 1 1/3 cups
1/3 cup soy sauce
1/2 cup olive oil
1/3 cup fresh lemon juice
1/4 cup Worcestershire sauce
1 1/2 tablespoons garlic powder
3 tablespoons dried basil
1 1/2 tablespoons dried parsley flakes
1 teaspoon ground white pepper
1/4 teaspoon hot pepper sauce (optional)
1 teaspoon dried minced garlic (optional)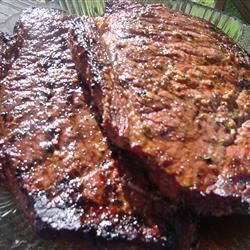 I think for the first time in a long time, I actually followed this one as directed! I did use fresh minced garlic instead of dried, and forwent the hot pepper sauce. But since both of those were optional, I'm sticking with my original statement! ;) Wasn't sure about the basil addition, but it turned out the perfect balance. I used some top sirloin steaks and pan seared them until done. It was delicious! Served with loaded mashed potatoes (cheese, chives, and bacon bits), and fresh salad.