I love breakfast food. Breakfast for dinner is even better, as I actually get the time to enjoy it! This is a fun overnight casserole, though I think next time I might skip the overnight part in hopes that the bread will be less soggy. I like the option of having Eggs Benedict (which I love) for a larger group without the hassle of making individual eggs. :D
cooking spray
8 large eggs
2 cups milk
3 green onions, chopped
1 teaspoon onion powder
1 teaspoon salt
3/4 pound Canadian bacon, cut into 1/2-inch dice
6 English muffins, cut into 1/2-inch dice
1/2 teaspoon paprika
1 (.9 ounce) package hollandaise sauce mix
1 cup milk
1/4 cup margarine
Directions
Spray 9x13-inch baking dish with cooking spray.
Whisk eggs, 2 cups milk, green onions, onion powder, and salt together in a large bowl until well mixed.
Layer half the Canadian bacon in the prepared baking dish. Spread English muffins over meat and top with remaining Canadian bacon. Pour egg mixture over casserole. Cover baking dish with plastic wrap and refrigerate overnight.
Preheat the oven to 375 degrees F (190 degrees C).
Sprinkle casserole with paprika; cover with aluminum foil.
Bake in preheated oven until eggs are nearly set, about 30 minutes; remove foil. Continue baking until eggs are completely set, about 15 more minutes.
Whisk hollandaise sauce mix with 1 cup milk in a saucepan. Add margarine and bring to a boil, stirring frequently. Reduce heat to medium-low, simmer, and stir until thickened, about 1 minute. Drizzle sauce over casserole to serve.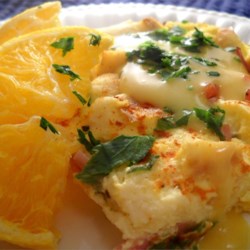 Other than substituting regular ham for the Canadian Bacon, and not putting in green onions (which despite the fact that I keep leaving them out in recipes, I actually DO like!), follow as directed. I did use Bearnaise sauce instead of Hollandaise...personally, I like Bearnaise better. And I used TWO packages instead of one. I tend to like things saucy, so it was perfect for me, but for most people, one package would probably be fine. The English muffins got a little soggy, so next time I think I would mix everything together and bake it immediately in hopes that the bread would keep it's texture. It wasn't even as bad as leftovers the next couple days!