Ummm, yum! That's all I have to say about this bread. I love making bread that doesn't require rising, or very much kneading. This and beer bread are my go-to's!
Easy Irish Soda Bread
Ingredients
Original recipe makes 1 1 1/2 pound loaf
4 cups all-purpose flour
4 tablespoons white sugar
1 teaspoon baking soda
1 tablespoon baking powder
1/2 teaspoon salt
1/2 cup margarine, softened
1 cup buttermilk
1 egg
1/4 cup butter, melted
1/4 cup buttermilk
Directions
Preheat oven to 375 degrees F (190 degrees C). Lightly grease a large baking sheet.
In a large bowl, mix together flour, sugar, baking soda, baking powder, salt and margarine. Stir in 1 cup of buttermilk and egg. Turn dough out onto a lightly floured surface and knead slightly. Form dough into a round and place on prepared baking sheet. In a small bowl, combine melted butter with 1/4 cup buttermilk; brush loaf with this mixture. Use a sharp knife to cut an 'X' into the top of the loaf.
Bake in preheated oven for 45 to 50 minutes, or until a toothpick inserted into the center of the loaf comes out clean, about 30 to 50 minutes. You may continue to brush the loaf with the butter mixture while it bakes.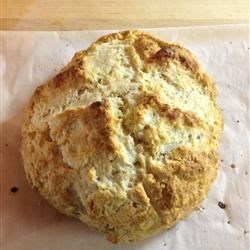 This is awesome served with any kind of soup. I usually brush it once or twice while it's baking and that seems to work out just fine. Now go forth, my wee bairns, and cook to your Irish heart's content. :)
While it's not really Irish at all, and English making it all the worse, we are in fact catching up on Merlin this St. Patrick's Day. I'm enjoying it, though I've heard tale that it ends in not a manner that I would wish. I think each of the actors does a great job of capturing the essence of the character, which is a nice improvement over most American shows.