I'm back! And there is a new addition to the blog - if you look in the upper right corner, there is a now a search bar! I was feeling like I didn't want to keep adding more recipes, because I could never remember what month I put what recipes, and I wasn't able to find recipes without looking through all the months. I will be adding tags to older recipes, and will try to add as much detail to the tags in order to make it easy for you to find recipes. Search by recipe or ingredient, and voila!
To start off the weekend of blogging (which is the plan...playing catch up!), I just made a bacon cheese dip that was fabulous for my special group. The recipe says it makes enough for 16...it lies. I would say
maybe
6. It's yummy, so make lots!
World's Best Bacon Cheese Dip
Ingredients
4 slices bacon
1 (8 ounce) package cream cheese, softened
1 cup mayonnaise
8 ounces Swiss cheese, shredded
2 green onions, finely chopped
4 buttery round crackers, crushed
Directions
Place bacon in a large skillet. Cook over medium-high heat until evenly brown. Drain, crumble, and set aside.
In a small bowl, mix the cream cheese with mayonnaise until smooth. Stir in Swiss cheese, onions, and bacon. Place bowl in microwave, and cook 2 minutes. Remove, and stir well. Return to microwave, and cook 2 to 4 minutes more. Sprinkle crushed crackers on top. Serve warm with crackers.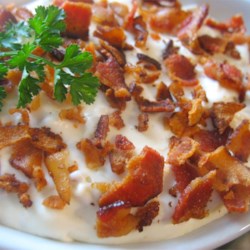 For something that is called "World's Best Bacon Cheese Dip", 4 pieces of bacon is really sub-par. I recommend using a package of bacon, minus the one that you eat. Cook bacon in whatever method suits you best - I did pan fry these, but my favorite method is baking. I don't really like mayonnaise that much, so I eye-balled the Miracle Whip to about 1/2 cup, added a little over a cup of shredded Swiss, and about 1/2 cup of freshly shredded Parmesan cheese. I didn't have any green onions on hand, so I used my freeze-dried chives (which are super handy to have around for times like this!). To give it a little extra something, I also added a couple shakes of garlic powder and onion powder. I think it would be a little on the bland side without some kind of extra seasoning. I then crushed a little mini package of Ritz crackers (about 15 I think in the package) to sprinkle on top. You definitely can serve it at that point, but I then baked it uncovered at 350 degrees for about 20 minutes. It was DELICIOUS! The Miracle Whip gave a little sweetness, and all the cheese made it very hearty- it may break your dipping crackers! I may look for an additional ingredient next time I make it that would still give it a cheesy taste, but thin it out a little bit without make it too greasy (which is what I was worried about with adding the required amount of Mayo).
We are being commissioned at Stephen Minister's this weekend at church. I'm both excited and nervous (not really a big fan of standing in front of a bunch of people!). At least I only have to say my name...hopefully that won't be too challenging........... .......Anywho....... It's nice being done with the weekly commitment of training (hello 50+ hours of my life that I could have spent doing much less useful things). We still have bi-monthly meetings to attend, and me being me, my goal is to not miss any meetings, despite the fact that I have yet to acquire care receiver.
Stephen Ministry is great for teaching you how to effectively interact with people - if you don't know about it, I encourage you to
check it out
. It's all about being assertive, speaking the truth tempered with love, and how to really be there to help someone
through
a crisis. It's a process-oriented ministry - the goal is not to immediately jump to "do this, this, and that, your problems will be solved". It's about encouraging the care receiver to grow, and to process what they are going through, and to just listen. Even if I never got a care receiver it would be worth it just for getting (hopefully!!) those skills.