Moving on from bacon (as I realized the last 2 posts were about bacon), we'll throw in a recipe with no meat at all! I am a self-proclaimed carnivore. My dad was a meat cutter, so meat was a staple food source as I was growing up. Mom hid all sorts of veggies in regular food - I distinctly remember shredded carrots in lasagna, and tofu ending up in Lord knows what. I'm trying to branch out beyond meals that require meat, and this is definitely going to go into the keeper pile.
Original recipe makes 4 servings
1 tablespoon olive oil
2 stalks celery, chopped
1 onion, chopped
3 cloves garlic, minced
2 teaspoons dried parsley
1 teaspoon Italian seasoning
1/4 teaspoon crushed red pepper flakes
salt to taste
1 (14.5 ounce) can chicken broth
2 medium tomatoes, peeled and chopped
1 (8 ounce) can tomato sauce
1/2 cup uncooked spinach pasta
1 (15 ounce) can cannellini beans, with liquid
Directions
Heat olive oil in a large saucepan over medium heat. Cook celery, onion, garlic, parsley, Italian seasoning, red pepper flakes, and salt in the hot oil until onion is translucent, about 5 minutes. Stir in chicken broth, tomatoes and tomato sauce, and simmer on low for 15 to 20 minutes.
Add pasta and cook 10 minutes, until pasta is tender.
Add undrained beans and mix well. Heat through. Serve with grated Parmesan cheese sprinkled on top.
Followed this one as directed (mostly). I did use chicken bullion to make the broth instead of already made broth. I tend to be a bit over-enthusiastic when adding bullion, and as a result this was a bit overly salty. Made with the appropriate ratio of bullion to water, I think it would be perfect. I added crushed red pepper instead of pepper flakes, and used the Garden's Delight pasta, which is made from carrots, spinach, and tomatoes. I did forgo the actual tomatoes, increasing the water by 2 cups and the pasta by another 1/2 cup. The soup is richly flavored, and beyond being too salty (my fault), it was incredible.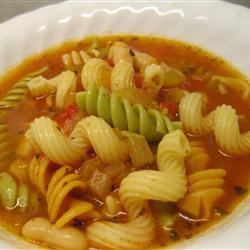 I'm looking in to joining a CSA this summer. My special group read The Dirty Life: On Farming, Food, and Love by Kristin Kimball, and I felt inspired. I want to try new veggies that I wouldn't on my own have picked up from Meijer. I want the freshness factor, and the knowledge of exactly where my food is coming from. By no means am I currently jumping on the organic bandwagon, or proclaiming from the rooftops that "this is how you should grocery shop!" I think everyone should make the choice for themselves, what works best for them and their budget. I am definitely excited though, and hoping that if it works out, it will be a growing (lol!) experience.